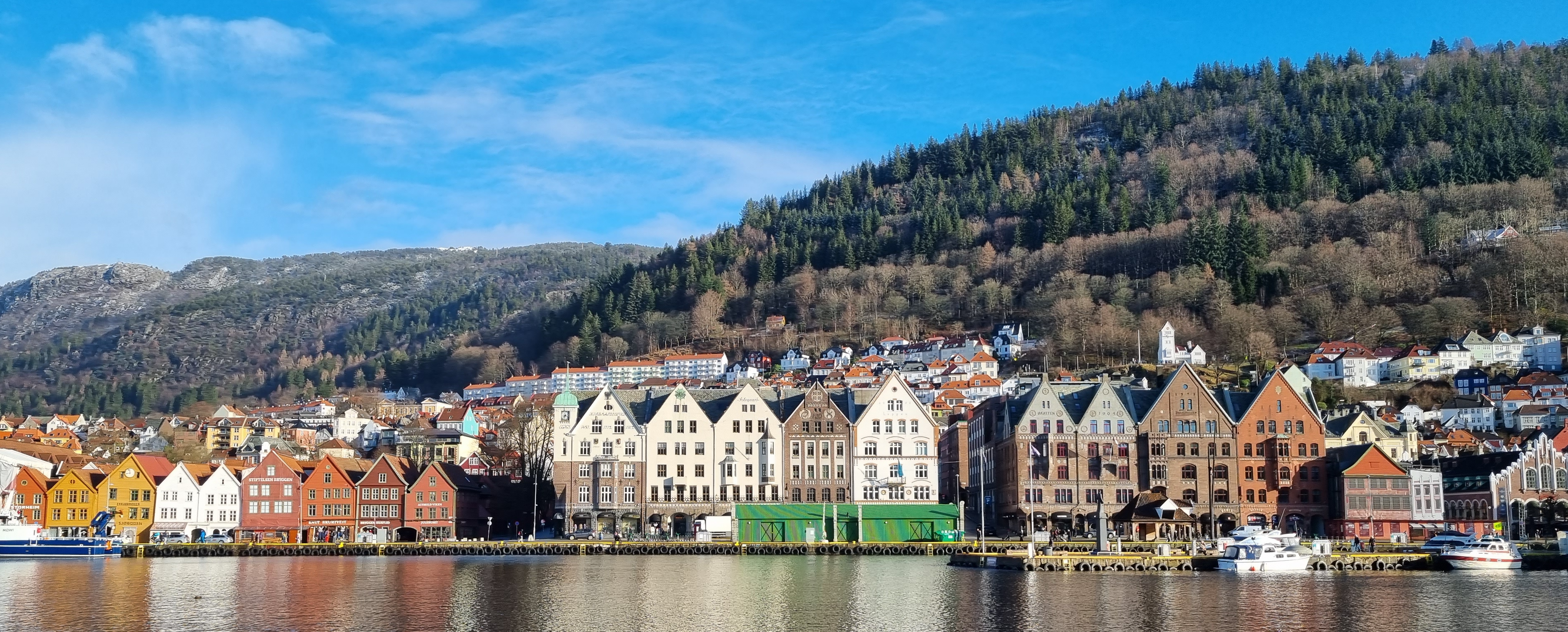 Travel & Accommodation
Travel to Bergen
Bergen is most easily reached by air travel, with the airport Bergen Flesland (BGO) serving multiple domestic and international destinations. The airport is located to the south-west of Bergen and the city center can be reached in about 45 mins using the tram Bybanen (using a regular public transport ticket, approximately €4 one way), 30 mins on the shuttle bus Flybussen (individual ticket, approximately €15 one way) or a private taxi (prices can vary a lot between companies, approximately €50–70 one way).
Bergen can also be reached by train from Oslo (and intermediate stops) in approximately 6 hrs, or by overnight ferry from Denmark. Domestic ferries to Bergen also exist, from e.g. Stavanger (from the south) and Trondheim and Tromsø (from the north).
Getting around Bergen
The University of Bergen is a located in the very center of the city of Bergen, just next to Johanneskirken (St. John's Church), a highly visible landmark. Central Bergen is not too big and most locations can be reached within 15 mins walking, but please note that Bergen is an old city built around hills, mountains and ridges, so streets will often be cobbled, irregular and at times quite steep, with occasional steps connecting some streets and alleys.
There is plenty of public transportation options in and around Bergen. The company Skyss runs the tram (Bybanen) and bus services, and tickets can be bought at tram stops or through their mobile app. There is also a network of city bikes (Bergen Bysykkel) that can be rented using a mobile app.
Accommodation
There are multiple accommodation options in and around Bergen. Several hotels (boutique as well as larger chains) are located around the central parts of Bergen city center (e.g. Byparken, Bryggen, Nordnes), and there are also hostels and AirBnB options. Besides downtown Bergen, staying around the areas Sandviken (north), Kalfaret/Fløen (east), Årstad/Kronstad/Minde (south-east) and Damsgård/Laksevåg (south) would be within easy reach of the conference venue using public transport or even walking/biking. We suggest using regular hotel booking sites to find accommodation, e.g. Booking, Hotels or Hostelworld.
NB: The summer months are by far the busiest tourist months in Bergen, so we strongly recommend securing accommodation as early as possible.
Restaurants
Below is a non-exhaustive list of restaurants suggested by the local organizing committee:
Fish me (fish and sushi; also vegan)

Sushi Roll Sandviken (sushi)

Bryggen Tracteursted (traditional Norwegian food)

Hekkan Burger (smokey burger joint)

Savanna Restaurant (East African cuisine)

Olivia / Villani (Italian food)

La Taqueria (Mexican food; vegetarian/vegan option available)

Daily pot (soups, veggie bowls; also meat options)

Råvarene (vegetarian/vegan options available)
At the university
Internet
All of UiBs campus is connected to eduroam and you will be able to connect directly to this if you have an active eduroam user account. For guests without eduroam access, you can connect to a guest network following these instructions: How do I log on to uib-guest?